As many of you may know, my dream career is to become some form of travel
writer
- be it blogger, journalist or columnist - and so I'm constantly trying to find out more about this fairytale lifestyle. I spend a lot of time reading National Geographic Traveller and checking out cheap flights to Japan and Brazil, and, of course, stalking amazing blogs like Neverending Footsteps. So when I contacted Lauren Juliff and practically begged for an interview, and she agreed, I was overjoyed. Finally, those little niggling questions about travel blogging could be
answered
- and shared on this
here blog.
Again, thank you to
Lauren for letting me conduct this interview in the first place, it's so, so awesome that you agreed.
Have you always wanted to travel? -
- I think so. I often tell the story of heading off on holiday with my family at around age five and having the most miserable week of my life. We were staying in a caravan on the British coast and it rained continuously, and all we did was argue. The night before we were due to head home, I burst into tears because I didn't want to leave. I'd had one of the most miserable experiences of my life, but I still wanted to be away from home.
That pretty much continued throughout my life. I'd spend all year counting down the days until I could go away, and then spend my holiday profoundly depressed that I'd have to head home in two weeks. I should have realised then that long-term travel was something I probably wouldn't be able to avoid.
How did you originally afford your travels? How do you continuously fund them now? -
- I decided I wanted to travel at around the time I went to college. I saved for those four or five years that I studied, cramming in odd jobs around my studies and severely restricting my spending. When my boyfriend and I broke up, I used that as an excuse to move back in with my parents so that I could save even more money! In the six months before I left the UK, I tried to sell as much as what I owned as possible. So, short answer: sold everything I owned; worked as much as possible; didn't buy myself many treats.
Now my travels are funded through a combination of advertising and affiliate sales on Never Ending Footsteps and freelance travel writing and editing. I'm also going to be releasing my first book in the summer: a travel memoir titled How Not to Travel the World.
How important were grades and qualifications in finding work abroad and being able to fund your travels? -
- They had zero importance. I have a masters degree in physics, and it does absolutely nothing to help my career as a travel blogger.
How do you budget your funds whilst travelling? -
- I'm a terrible budgeter! At the end of each month, I'll tally up my expenses to include in my monthly travel statistics posts, and take a look at my bank balance to see if I made a profit or loss. If it's a loss, I'll be more careful with my spending for the next month — less extravagant meals and alcohol — until I start pulling a profit again. I'm pretty laid back about it all.
How do you cope with your anxiety on the road? Have you ever had any problems? Have you got any advice for potential travellers who may relate to what you have coped with? -
- I'm fortunate in that travel has significantly helped with my anxiety — I now know that my anxiety disorder stems from feeling like I have a lack of control in my life, and through travel I have so much control over my life. I can choose to go wherever I want whenever I want, which keeps my anxiety in track. Additionally, travel forces your out of your comfort zone whether you like it or not, which is great for overcoming anxiety. I found that I soon stopped worrying about possible outcomes after several dozen times spent leaving my comfort zone and not dying.
There have been a few times where I've found myself having a panic attack in a foreign country, and I always take steps to place myself firmly in my comfort zone until it passes. I'll book a private room in a hostel instead of a dorm, I'll buy junk food from a supermarket to eat, and I'll lie in bed and watch crappy TV until I feel better. I mostly just wallow in self-pity for a few days.
If you're concerned about dealing with anxiety on the road, there are a few things I advise. Create a backup plan. Mine is similar to what I mentioned above: if anything goes wrong, take a few days out to focus on myself for a while. Remind yourself that home is only a plane ride away — even if you're travelling somewhere far away, like in New Zealand, there's nothing stopping you from going to the airport and flying home. You'll rarely be more than 24 hours away. Make sure to force yourself out of your comfort zone every now and then: it's so important for helping you see that anxiety doesn't rule your life, and it can be exhilarating to overcome a fear.
With your anxiety, how difficult was it for you to interact and converse with other travellers? -
- I don't really have any problems with interacting and hanging out with other travellers, aside from being introverted and needing alone time every now and then. My anxiety isn't something that massively affects the social side of things.
Do your travels rotate around some kind of plan? -
- Yes and no. I usually decide on a region I want to spend the year in and then I'll make it up as I go along. I rarely book more than a month in advance and I always change my mind. This year, I'm planning on spending the whole year in Europe. Aside from leaving Spain in May, I have no further plans. I'm keen to get to France, the Netherlands, and Slovenia, but I won't book flights or accommodation until a few days in advance.
Last year, I planned on spending the whole year in Latin America, but after three months, I booked a flight to Southeast Asia because I was missing it so much. So, I make plans because I find it enjoyable, but I don't often stick to them!
Would you say that you have forfeited the 'American dream'? Do you think that you will ever stop travelling and 'settle down'? -
- I'm not American, so no :-)
I don't have any plans at the moment to stop travelling and settle down. I'm currently living in Spain for four months as a bit of an experiment with my boyfriend to see if we're ready to stop moving and buy a house. It's been about two months and we already have itchy feet! I could see us travelling much slower in the future, visiting cities for a month at a time instead of a few days, but no plans to stop travelling at the moment!
You have mentioned on Never Ending Footsteps that you will be publishing your own novel in the Summer of 2015. Could you tell us a little more about that? -
- Yes! My book is a travel memoir called How Not to Travel the World. I'm one of the unluckiest travellers in the world — I've been attacked, robbed, and scammed, been caught up in a tsunami, had a boat sink with me on board, accidentally ate a cockroach, the list goes on… — and my book is about how I managed to conquer debilitating anxiety through having these terrible things happen to me. It's about getting out of your comfort zone, finding the humour in messed up situations, and I even find love along the way!
How do you manage to travel 95% of the time with your boyfriend? What does he do to fund his travels? -
- I met Dave through our travel blogs, and he funds his travels in a similar way to mine. He runs the travel technology resource site Too Many Adapters, and does quite a bit of freelance writing, too.
What was the first country that you wanted to travel to and why? (If you've travelled there, did it live up to your expectations?) -
- When I was a child, I decided I wanted to travel to Hawaii because I liked the name. I managed to travel there when I was 20 and I loved it. It more than lived up to expectations, especially because I didn't have any :-)
In your opinion, what's the perfect age for someone to start life-long travel? Is there such thing as being "too young"? -
- An age at which you can understand the world around you and process your experiences.
How vital is common sense whilst travelling? -
- Well, I don't have common sense and I seem to doing just fine. I definitely would have had a more successful trip had I had common sense, but it's never stopped me from doing anything.
How do you maintain your blog? Have you got any advice for others hoping to start up their own? -
- At the moment, poorly :-). I've been swamped with book writing over the past year and I've rarely posted more than once a month. The funny thing is that my traffic is higher than ever!
My advice would be to start a travel blog without the aim of making money. It's incredibly tough to make money from one, and if you don't love writing, you'll struggle to keep up the momentum. Try and find a unique angle to set you apart from the thousands of travel blogs that are out there. I'm one of the few people to write about how not to travel. Write for your readers rather than Google — nobody wants to read a post about things to do in London but they will want to hear about your experiences, if you make them sound interesting! Inject personality into your posts and don't try and sound like an emotionless writer — people want to connect with you as a person.
How long did you originally plan to travel for? What made you change those plans? -
- I thought I'd probably travel for six months to a year, head to Australia and New Zealand on working holiday visas, and then travel some more… I didn't really plan for a fixed amount of time.
After six months of travel, I was having so much fun in Southeast Asia, that the thought of going to Australia was utterly depressing. I cancelled my visa, and started visiting wherever I wanted.
Is there a certain thing that you always do on your travels? -
- I sleep through every transportation day. I suffer from motion sickness and drug myself up whenever I need to take any form of transport.
What sort of person do you think you were before you began to travel? What sort of person are you now? -
- I was selfish, self-absorbed, and lived a sheltered life. I'd like to think I'm the complete opposite now!
How different do you think your life would have been if you hadn't taken up travel as a career - e.g. if you spent most of your days working from within an office cubicle? -
- I would have probably gone on to do a PhD in physics, so I'd likely be spending my days sat in front of my computer for hours on end. Not so dissimilar to what I do now, if I'm being honest. I don't necessarily think my life would have been awful if I hadn't left to travel. I'm an optimistic person and was incredibly happy working in a supermarket and studying physics.
Have you had any experience with couch surfing, house sitting and teaching English abroad? -
- Nope, I haven't tried any of them.
What's the worst experience you've had whilst travelling? What's the best? -
- Worst experience was thinking I was going to be killed by a tsunami. I was in Phuket Airport when there was an announcement that a tsunami was heading our way and we needed to evacuate. I was terrified. Fortunately, it came to nothing, but it's probably the most convinced I've ever been that I was going to die.
Best experience would be the night I spent camping in the Sahara Desert. It was incredible riding camels over sand dunes, watching the sunset and sunrise, and sleeping beneath the Milky Way.
How difficult would you say jobs are to come by whilst travelling? -
- I have no experience with finding a job while travelling. Some of my backpacker friends haven't seemed to have too much trouble finding work at hostels or in bars, though.
What was your worst fear about travelling before you left? Has that changed? -
- I didn't really have one specific fear — I was frightened of everything. I was scared of rice and eggs, I was scared of buses, I was scared I'd be raped, I was scared I'd be murdered, I was scared I'd miss my flight, I was scared I wouldn't make friends, I was scared I wouldn't be strong enough to carry my backpack, I was scared I'd have a panic attack abroad, I was scared I'd hate travelling, I was scared I'd be lonely.
I don't really think I'm scared of much now. Nothing comes to mind, anyway.
What's your best travel advice? -
- Push yourself to do something new that you'd never normally do at home. Getting out of your comfort zone feels incredible!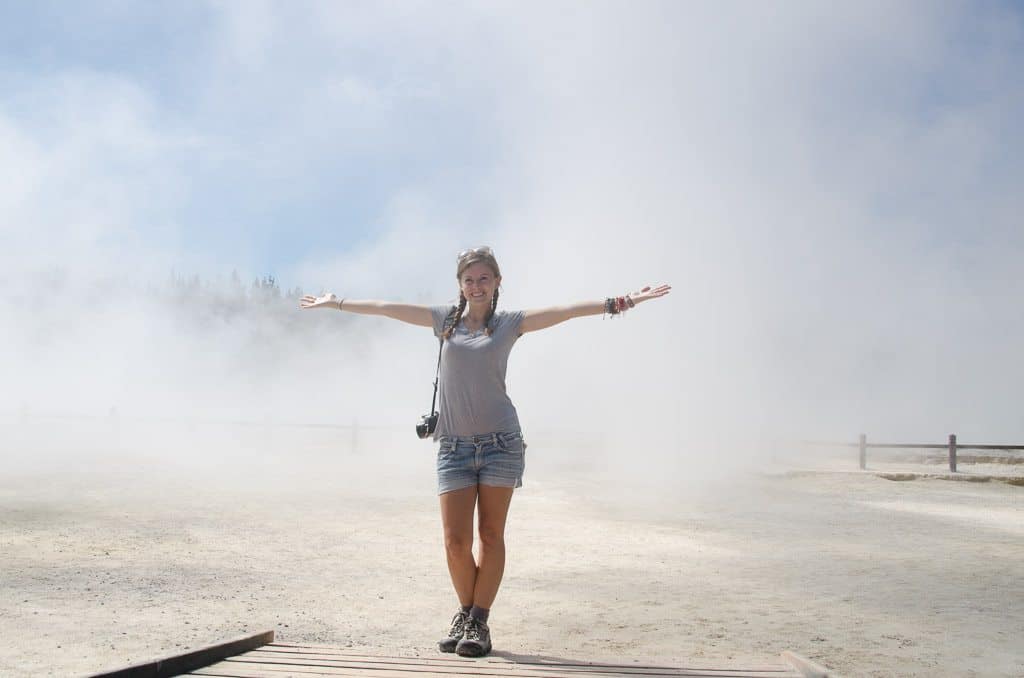 ~*~
This interview was super fun to conduct, and I'm so glad that Lauren gave me the chance to do it in the first place. I think that it's incredibly important to find out more about our role models and understand their take on things - especially when it comes to experiences, advice and ideas. I enjoyed learning more about travel blogging as a whole, and I hope you guys enjoyed too. Let me know in the comments below, and, as always, have a good day y'all!